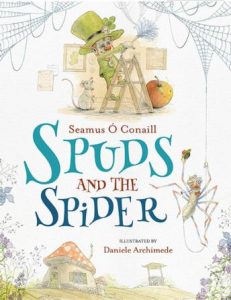 This book is aimed to captivate the post Montessori pupils. It is a very creative, fun and descriptive story. The story is about a leprechaun couple and a spider. It exemplifies the mantra of 'Never judge a book by its cover'.
The story is written by Seamus O'Conaill and illustrated by Danielle Archimede. I can assure you that most of the younger age pupils will love this book.
By Sanna (6th Class), Naul NS, The Naul Co. Dublin.
"Spuds and the Spider" by Séamus Ó Conaill is published by Gill Books and is now available to purchase for €8.99.
Disclaimer: This book was provided by the publisher, Gill Books, free of charge to Seomra Ranga for the purposes of this review