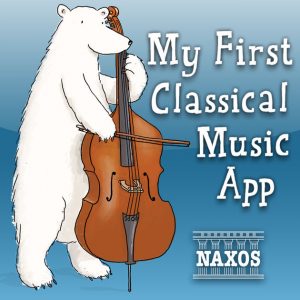 The "My First Classical Music" app comes from Naxos, the well-known brand specialising in classical music. Really good apps for the teaching of music can be hard to come by, but this one really fits the bill!
In the app, the pupil can read about classical music and listen to classical music – there are twenty eight different pieces of classical music within the app which are used to illustrate a point in a particular section.
Each section in the app has a "music bird" which tells the pupil about the music. Sometimes the bird tells the pupil to listen to something in particular and other times it poses a question. Most pages in the app also have other things that pupils can click with some sort of a musical response.
Bright and colourful with child-friendly illustrations, the app is divided into three main sections – When? Where?; People; Instruments.
The "When? Where?" section looks at teaching pupils when and where classical music can be heard. In this section, there are pages about Television and Cinema, Dancing, Concert Hall, Weddings and Theatre. Each page has pieces of classical music appropriate to the page for pupils to listen to. The app also gives pupils hints about things to listen out for, or poses a question about the music eg. "Would you describe this piece of music as still or jerky?"
The "People" section deals with learning about composers. Pupils will learn about eight composers – Handel, Bach, Mozart, Beethoven, Brahms, Tchaikovsky, Stravinsky and Adams – their lives and their music.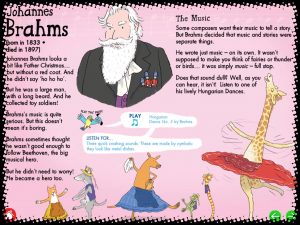 The "Instruments" section of the app helps pupils to learn about different instruments eg. guitar, clarinet, recorder, drums, piano. They can also learn about the orchestra and the voice. On each page, pupils can listen to a piece of classical music which features the focused instrument.
For pupils who may have difficulty reading lots of text within the app, they can just touch a paragraph within the text and it will be read aloud to them.
This is a great music app for teaching pupils about classical music. Although it is a paid app, it is certainly well worth the price as the production values are top class.
The app is available in the iTunes Store for both iPad and iPhone, priced at €4.49. It is also available in the Google Play Store, priced at €3.99