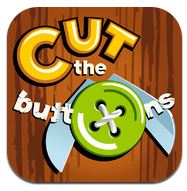 At its heart, the "Cut the Buttons" app is very simple. However, it's this simplicity which has allowed it to be acknowledged by specialists as a great addition to fine motor skills training, especially for younger pupils or for pupils who find this area challenging.
The aim of the game is for pupils to use the scissors, using thumb and forefinger, to cut buttons from floating scraps of material and get them to drop into the container at the bottom of the screen.
There are two modes of play – Classic mode and Arcade mode. In Classic mode, the game continues until you fail to cut buttons from three scraps of material. In Arcade mode, you can set a time limit (1, 3 or 5 minutes) and try to cut as many buttons as possible in that time.
To extend the fine motor challenge in the game, the pupil can use one hand to cut the buttons with the scissors while at the same time using the other hand to move the container at the bottom of the screen to receive the falling buttons.
By default, the app is set for right-handed pupils. However, this can be changed for left-handed pupils in the app Settings section. The app can also be played in multi-player mode, allowing two pupils to play the game against each other.
There are in-app purchases for different themes, one of which I purchased by mistake, so be careful!
The app is available in the iTunes Store for iPad priced at €3.49. It is also available in the Google Play Store.