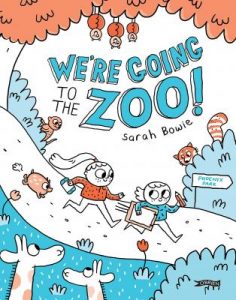 Book Name – We're Going to the Zoo by Sarah Bowie
The Story – The Story is about two sisters going to the Zoo called Clara and Kitty. The little sister was drawing and the older sister was just taking pictures. The older sister wanted to draw when they saw the baby rhinos. The Zoo keeper came over and asked to look at the drawn pictures, and he said the pictures were great at showing more than photographs and he put them up so loads of people could look at them.
The Plot – The big sister was not getting along with her smaller sister because she did not like drawing anymore and Kitty was drawing everything. She thought drawing was so stupid and she could just take photos instead. And then she realised that drawing is good and by the end the two sisters were getting along and Clara took a picture of Kitty and the Zoo keeper and she felt proud of her little sister.
The Characters: Kitty – Kitty was a small girl who loved to draw; Clara – Clara just liked to take photos and play games. She loved electric stuff like iPads and phones and stuff.
What did I think about the book – I thought some bits were a bit funny and it was a brilliant book
What Parts did I like – I liked the Macaque drawing with his big pink butt and when the elephant splashed the page and at the end when Kitty felt proud of her little sister
What parts did I dislike – There was only one bit that I disliked because it was a really good book. I didn't know what the sea lion drawing was cos there's only a shark and sea lion drawing at the bottom that show you something.
What was my favourite bit – The Macaques pink butt
What age is the book for – I think the book is for 5-9 year olds. The younger ones will like it as a bed time story read by their parents and the older ones can read it themselves.
What rating out of 10 – I would give it a 10 out of 10 because I really enjoyed it and you get to learn interesting stuff.
By Eva-Lily, Réalt Na Mara Girls School, Donacarney, Co Meath
"We're Going to the Zoo" by Sarah Bowie is published by O'Brien Press and is now available to purchase.
Disclaimer: This book was provided by the publisher, O'Brien Press, free of charge to Seomra Ranga for the purposes of this review