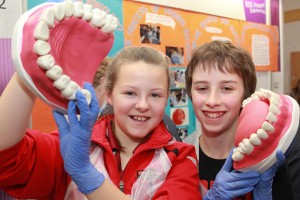 The Call for Entries for the RDS Primary Science Fair 2018 is now open and will close on Wednesday, October 4, 2017. The RDS Primary Science Fair is a non-competitive exhibition which showcases primary school STEM-related (science, technology, engineering and maths) class projects and provides opportunities for students to explore other schools' projects and explain their class projects to their peers.
With a core focus on children's skills development, the fair brings together teachers, parents and students to showcase class projects, share experiences and learn from each other.
The Fair will take place in three locations in 2018:
RDS Primary Science Fair Dublin – January 11-13, 2018
RDS Primary Science Fair Limerick – January 18-20, 2018
RDS Primary Science Fair Belfast – June 6 & 7, 2018
The RDS Primary Science Fair Limerick and Belfast will also feature an exciting educational entertainment programme for children, families and teachers including large-scale science shows and interactive exhibits.
Full details about the Primary Science Fair, including an information booklet and the online form, are available at www.rds.ie/primarysciencefair
If you have any further questions you can call Karen Sheeran or Emma Tallon anytime on 01 240 7990 (ROI) or 0345 2661897 (NI).