This week, we've teamed up with Potter's Yard Press to bring you another great competition. Potter's Yard has published a series of three visual arts teacher's resource books: "Hands On Crafts For the Classroom – Print, Clay, Fabric & Fibre". The series is designed to facilitate the teaching of what some teachers may consider to be three challenging Strands of the Visual Arts Curriculum.
The books in the series are:
Exploring Fabric & Fibre
Ball to Bowl – Projects in Clay
Primary Printmaking
The books are written by professional artists with experience of working with children. The books contain a series of structured Lesson Plans accompanied by detailed illustrations, photographs and drawings. They also contain a glossary of terms, tools and materials mentioned in the books, as well as lists of stockists.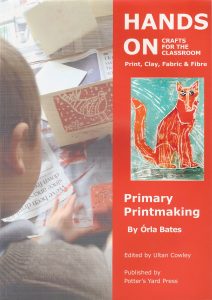 A March 2016 review of the books in the InTouch magazine said: "All three books are very teacher friendly, practical and well laid out. The texts are accompanied by clear, detailed illustrations …"
The books are available to purchase from the Potter's Yard Press website costing €18.99 each or €55 for all three books (including P&P). For further information on the series email Ultan Cowley at ultan.cowley@gmail.com 
Potter's Yard Press has given us all three books in the series as prizes for the competition. To be in with a chance to win one of these three books for yourself or your school, simply fill in the form below with your details and answers to the simple questions. The questions are all based on some aspect of visual arts which are the focus of these books. All entries for the competition must be in by 5pm Thursday September 21st. Only one entry per teacher is permitted. The winner will be randomly selected on Twitter (@seomraranga) after this time.
Please make sure that you give a contact email address that you can be contacted on immediately after the competition as teachers have previously forfeited prizes by not answering their emails promptly! Again, many thanks to the team at Potter's Yard Press for generously sponsoring the prizes for this competition. Go n-éirí an t-adh libh!