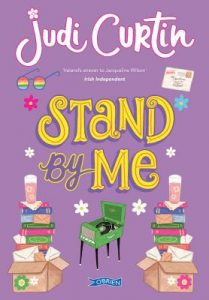 I really enjoyed this book. When I first saw it, it didn't look like a book that I would usually pick in a library. I thought that the cover wasn't very interesting. All it had was a picture of boxes and books. I had no idea what the story would be about.
When I started reading it, I found it an easy book to read. It was interesting and I was always excited to read what happened next. The story is about step-sisters called Molly and Beth. Their Uncle Graham is usually such good fun but one day he is sent a letter which makes him so sad. The girls want to help cheer him up.
They find a photo album which tells them lots about Graham's past and they begin asking Graham questions about his life when he was young. It turns out that there was a tragedy that Graham has been feeling guilty about his whole life. With the help of Rico's time machine, the girls go back to 1961 and try their best to fix Graham's problem.
The girls have lots of adventures and go back in time looking for clues about Graham's life. The book was mysterious and exciting and every time I finished a chapter, I couldn't wait to read the next. I would recommend this for children aged between 8-10. If Judi Curtin wrote any more Molly and Beth books, I would definitely read them!
By Emma, St Oliver Plunkett School, Malahide, Co.Dublin
Disclaimer: The book was provided by the publisher, O'Brien Press, free of charge to Seomra Ranga for the purposes of this review