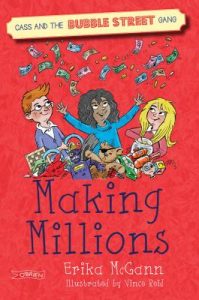 I really enjoyed 'Making Millions' by Erika Mc Gann. I consider it a humorous adventure book that keeps you wanting to turn the page and keep reading. This book shows one great life lesson, never give up. If at first you don't succeed try (and try) again.
Cass, a ten year old girl, and her friends Lex and Nicholas are in a gang called the 'Bubble Street Gang.' The 'Bubble Street Gang's mission is to solve mysteries, investigate crimes and have brilliant adventures. The 'Bubble Street Gang's goal is to get money for Nicholas to do costume lessons. It takes the 'Bubble Street Gang' many attempts to make money for the lessons. This book shows that Cass and her friends never give up.
My favourite part of the book is when Cass investigates the invisible boy. She found out about the invisible boy when she saw his name on the register on the teacher's desk and is eager to know more about him. It takes her many attempts to expose this character. In the end the so called invisible boy is actually a real boy who moves into the house behind Cass's. They become friends and he joins the 'Bubble Street Gang'.
My least favourite part of the book was when Lex ate sweets out of the jar. The jar was for guessing the amount of sweets that were in it. This meant that Cass didn't have the right number of sweets in the jar.
I would recommend you should read the first book in this series before reading this so you can be familiar with the main characters. I feel this book is suitable for children aged 7 – 10 years. I would recommend this book to schools if they were considering a class novel. Well done to Erika Mc Gann on the production of a great story.
By Mark, Boyne Community School, Trim, Co. Meath
Disclaimer: The book was provided by the publisher, O'Brien Press, free of charge to Seomra Ranga for the purposes of this review