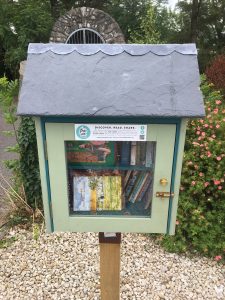 I came across this lovely idea on a visit to a local park today – it had a "Free Wee Library". Almost like a bird house, it has a slate roof and a door with a window. Inside, it contains books for children and adults which have been supplied by the local community.
The idea for such a community book sharing scheme began in Buncrana, Co. Donegal in 2013. Working on an honesty policy, it encourages people to take a book to read in the outdoors in their local park and to return the book when they are finished.
According to the Free Wee Library website, the scheme aims to "promote literacy, encourage exercise, promote community arts programmes and positive mental health".
The Free Wee Library project also runs a "Free Wee Library Schools' Project" supplying outdoor or indoor wee libraries for schools. They list lots of educational benefits for running such a scheme in a school, most of which teachers would support and agree with. Even if schools didn't purchase the wee libraries from this project, the idea would be a great one to introduce in your own way into your school playground or school hall.