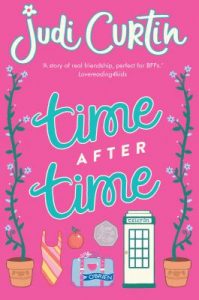 Summary
This book is about Molly and Beth, two 12 year old girls who are best friends. They go through a doorway and accidentally travel back in time to July 1984! Beth decides that she has to go and meet her mum who died when Beth was a baby. Together Molly and Beth go on an adventure to find Beth's mum.
My favourite Part
My favourite part of the book was when Molly and Beth realise that they have time travelled. I liked it because it is exciting, it describes where they are very well and it has a bit of humour in it.
Age Range
I would recommend this book for 10-11 year olds as it would be too easy for anyone older.
My Opinion
I think that this is a very well thought out book with lots of unexpected twists and turns. It has very interesting characters and a very good problem. I don't have any criticism. All in all an excellent book. 10 out of 10.
By Alice, Rang V, Our Lady of Good Counsel GNS, Johnstown, Co. Dublin
Disclaimer: The book was provided by the publisher, O'Brien Press, free of charge to Seomra Ranga for the purposes of this review