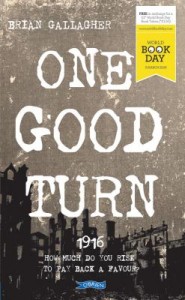 "One Good Turn" by Brian Gallagher is about when the Easter Rising is just over and Gerry Quinn's life is tough. He is living with his uncle. His uncle does not treat him well and he doesn't know that Gerry took a jacket and got caught. Then one day he wanted to run away. To find out what happens next you will have to read the book.
I thought that the book was very good. I think that if you want to read it, you will have to know a little bit about the Rising first.
My favourite part of the book was when Gerry starts getting cheeky with the officer.
My least favourite part was when Gerry wanted to run away. That made me feel kind of sad, because the Rising was over and everything was just messed up.
I would give this book a score of 8/10 as it was a very good book. I would love to read more books again from this author.
By Ciarán, Rang VI, Scoil Naomh Éanna, Carraroe, Sligo
This book is released by O'Brien Press as part of World Book Day 2016