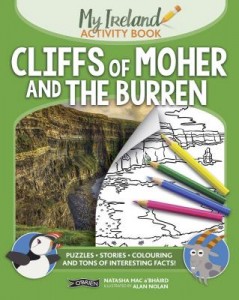 I loved this book. It has really fun activities and games in it. But my favourite pages are 12 + 13 (Where's Larry) and my least favourite page is page 19/20 (postcard). I haven't done much in it though and I don't like the tricky things in it either. I would give this fun activity book 8/10.
By Ciara, age 8, 3rd class
I liked the puzzles in the book, e.g. mazes, find-the-thing games and spot the difference. I also liked the stories, drawing and colouring pages. I disliked the hard questions (eg. p. 10 qs 5 and 7). I found it hard to choose my favourite bits bits from the book, but I really liked "Where's Larry" (p.12/13) and the puzzles. I would give this book a Rating of 9/10.
By Caoimhe, age 10, 5th class