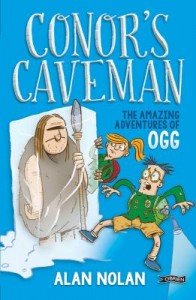 "Conor's Caveman" is an enthralling book written by Alan Nolan. It is about a young boy named Conor who is part of a team of scouts. Every weekend the scouts go camping at different destinations. Conor is so shy it cripples him. Conor only has one friend called Charlie, who is the toughest girl he has ever seen.
One day the scouts are asked to go camping at Lough Dan, which is a mountain in Wexford. It is an extremely dark, damp, cool day but the scouts do not want to waste a single day and plan to go ahead with their trip. Dennis Deegan, (the scout leader) is the dad of Damian Deegan. Damian Deegan always bullies Conor about having no friends and being shy and Conor hates him for it. Dennis Deegan is very cruel to Conor and always puts Damian into Conor's group.
The minute the rain stops, the two groups race to see who can plant the flag at the summit first. Upon reaching the halfway mark, Damian and Gulliver tell Conor and Charlie to keep going and they will have a rest. Subsequently, they were first to reach the summit of the substantial mountain. They plant the flag and look around the mountainside, wondering which way they came. This ultimately leads to them having a guess.
Suddenly, Charlie falls into a gorse bush bringing Conor with her. Unexpectedly, they fall through the bush and into an ancient terrifying, frozen cave. While proceeding to walk down the dreary cave, petrified with fear, they see something elephantine up ahead . What is it?
Read this magnificent novel and find out.
Rating 8/10
Patrick, 6th class, Belclare NS, Co. Galway