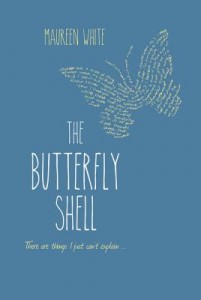 The "Butterfly Shell" by Maureen White is an interesting book, full of emotions. The main character Marie has just moved into secondary school and is having trouble adjusting. She spends her days at school being bullied by the "Stupid Six". She foolishly reveals to them that her friend, Stella, is allergic to peanuts.
When Marie suffers a tragic accident her friend Stella forgives her and comes to visit her daily. Before Marie was born her sister died and Marie is named after her. Consequently her nights are haunted by her dead baby sister.
I liked that Marie is an avid reader. However when depression struck she couldn't bear to read any more. The supernatural elements added an interesting twist to the story, though I would have liked them to develop more; seeing her sister's spirit or her sister talking to her would have enhanced the story a lot more. The baby crying loses its effectiveness after a while.
Overall I thought that the book became predictable but it was enjoyable. I would, however, like the author to write a sequel.
By Niamh (13), Coláiste Oiriall, Monaghan