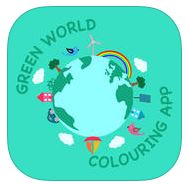 The Green World Colouring App is a great child-friendly app that adults can use too. Every page for colouring includes details about the animals or environmental issues shown in the picture, so it teaches children about the environment while they're colouring.
There are ten great pages and twelve different colours to choose from, and if you make a mistake, it's easy to erase what you have coloured without erasing the drawing itself. You also don't need an internet connection to use the app, which means it's a great app for fun and learning if you're somewhere without internet like an aeroplane.
You can also easily save your work and then upload it somewhere, or print it directly from your iPad. Although the app only works on iPad and not on the iPhone/iPod Touch, this is not a problem because you would need a larger screen to colour in a big page. It might be worth buying a stylus pen for colouring well on the iPad, but it isn't necessary.
Not only is the app free to download, but it's also Irish and very child friendly. It would be a lovely app to have for Golden Time or as a reward on a class device, and I think it's great that we have Irish companies making it. I would love to see the app made bigger to include more pictures from the Irish countryside or rivers, maybe available as add-ons that you could pay for.
I'm on the Green Schools Committee in my school and I would recommend that all classes in schools look at it as a way of including artwork in all of their teaching about taking care of the environment. With so many schools trying to continue their Green Flag collections, or even get started, this is a great educational app. People can use the app in school or in home as a conversation starter to explain what different environmental or energy words mean.
I recommend that you give it a go! Download the app from the iTunes Store HERE
Sam is a 6th Class student in St Peter's Primary in Bray. He loves football, maths and hanging out with his friends in 6th Class. You can see lots of examples of Sam's work on his School Twitter account, @StPetersBray, or on www.stpetersbrayblog.com