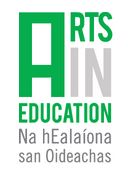 The Minister for Education and Skills, Jan O'Sullivan TD, and the Minister for Arts, Heritage and the Gaeltacht, Heather Humphreys TD, today launched the Arts in Education Portal in Dublin Castle. Developed by both Departments, the Arts in Education Charter was launched in 2012. The Charter plays a pivotal role in promoting both Arts Education and Arts in Education through a collaborative approach across Government Departments, education agencies and arts organisations.
Speaking at the launch, Minister O'Sullivan said:
"Arts in Education practice enriches the lives of all those involved, from children and young people to artists and teachers. The arts are particularly powerful in nurturing and developing our minds and imaginations. I am delighted to support today's launch. The Portal will be the key national digital resource for arts and education practice in Ireland."
The stated aims of the portal are:
Advocate for children and young people with respect to their rights to access good quality arts experiences
Promote the importance of arts-in-education and arts education to the development of individual capabilities;
Bring about innovation in arts-in-education and arts education practice
Enable users to access arts-in-education both in Ireland and internationally
Be a virtual access point connecting a cross-section of professionals across the arts and education
The ethos for the portal is about building a community of practice within arts and education, and providing a space where both artists and teachers can be supported and inspired. It will provide a platform through which good collaboration practice in arts-in-education and arts education will be supported, developed and enhanced.
I was involved in the first of the national consultations that took place throughout the country last October, facilitated by Kids Own Partnership, who are also the current editors of the Arts in Education Portal. It's amazing to see how much has been achieved in pulling the portal together in such a short period of time. There are also great plans to develop the portal further, to provide more examples of best practice and provide resources for collaborations between artists and schools.
Visit the portal at http://artsineducation.ie/