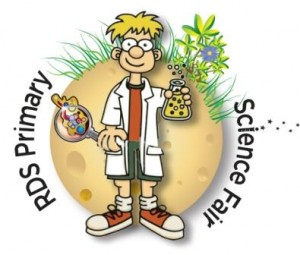 This January over 2,700 4th, 5th and 6th class students from across the country will be at the RDS Primary Science Fair (PSF) with their class projects that answer questions such as 'Do cows have blue eyes?' 'Why don't aeroplanes fall from the sky?' and 'What type of cup keeps liquid hot the longest?'
Such was the interest in the fair that a 43% increase in applicants saw the 2015 event oversubscribed by 130%, with half of the schools being first time entrants.
Representing 26 counties from Ireland north and south, the 120 primary school class projects at the Primary Science Fair will display at the BT Young Scientist & Technology Exhibition 8-10 January. The RDS Primary Science Fair encourages primary school teachers to focus on developing pupils' core scientific skills by investigating a question or problem by 'working scientifically' and 'designing and making' as per the primary science curriculum.
Teachers' feedback indicates that it's not just science skills that benefit but that literacy, oral language and numeracy skills can improve through PSF participation. International studies have also demonstrated a direct link between primary school science engagement and later academic science achievement.
Working under the supervision of their teacher, the entire class are encouraged to be inquisitive and curious about the world around them. This has led to projects in 2015 including:
• Why do giraffes have such long necks?
• What methods and myths actually work to prevent ourselves crying while cutting up onions?
• Can we make our own drinking water from our local river?
• Why are pipes round?
One of the aims of the RDS Primary Science Fair is to develop teacher confidence and skills in teaching STEM subjects (Science, Technology, Engineering and Mathematics) using an inquiry-based approach. Better teaching of STEM in primary education is considered by many experts to be crucial in strengthening Ireland's international science performance.
The PSF is part of the RDS Foundation Science and Technology programme which aims to encourage the development of science and mathematical skills in primary school aged children by fostering education innovation and is part of a suite of RDS activities that aims to enrich Ireland culturally and economically.
For further information, visit www.rds.ie/primarysciencefair