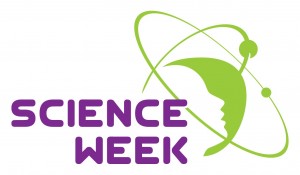 The 19th annual National Science Week kicks off today with a host of fun and exciting science events, seminars, demonstrations and tours taking place across the country. Over 800 events will take place in Dublin, Donegal, Galway, Sligo, Mayo, Waterford, Cork, Limerick and across the Midlands aiming to entertain, educate and enthral young and old alike with the power of science. Visit www.scienceweek.ie for a full listing of events across the country.
Coordinated by SFI Discover, the education and public engagement programme of Science Foundation Ireland, Science Week is aimed at engaging with young people and inspiring them to study and take up careers in the exciting fields of science, technology, engineering and mathematics (STEM). It also seeks to motivate people of all ages to engage with STEM disciplines at home, in the classroom and at work.
Professor Mark Ferguson, Director General, Science Foundation Ireland and Chief Scientific Adviser to the Government of Ireland said,
"Science Week is a wonderful opportunity for young and old to get hands-on with science, technology, engineering and mathematics. There is a vast array of exciting and interesting events taking place right around the country this week – it truly is an open invitation to everyone to explore the power of science and how it impacts our world. It is imperative that we encourage young people, in particular, to consider science subjects for their studies and future careers. Science, technology engineering and maths offer rewarding career paths and form the basis of a sustainable economy. I would encourage everyone to visit www.scienceweek.ie to find out what events are on in their local area and get involved."
As well as events in primary and secondary schools, colleges and libraries the following is a snapshot of what Science Week around the country will involve:
Dublin
Science Week in Dublin kicks off today with the Curiosity Lab in Dublin's Temple Bar which will transform the Smock Alley theatre into a curiosity filled hub with free adventures in science, play and technology. Featuring robotic heads, snap together electronics, colourbots, marble runs, mountains of LEGO and science shows, there will be something for all the family to enjoy.
The Space Tourist event on Thursday 13th November will invite the audience to delve into the future of space travel with special guests NASA Astronaut Greg Johnson, Dr. Niamh Shaw and Professor Ian Robertson.
Also in Dublin the Celebrate Science 'Smashing Science' programme running from 13th to 15th November will involve a series of films, discussions and interactions with scientists across the fields of materials science, sports analytics and physics. Science movie buffs, science geeks, tech lovers and those with enquiring minds are invited to Dublin's CHQ Building for fun and fact packed evenings of film, discussion and exploration.
Cork
Science week in Cork kicks off today with the Celebrate Science festival in University College Cork featuring over 30 different workshops, displays, talks and demonstrations for adults and children from 12 noon to 5pm. Choose from science magic shows, molecular gastronomy, Lego workshops, 'Disgusting Digestion' and lots more throughout the week.
The Discovery Festival in Cork City Hall on 15th and 16th November will include science shows with Paul McCrory, 'electronic brainbox', periscope and light demonstrations and 'MathWorks' puzzle workshops.
Waterford
Waterford's Robert Boyle Science Festival begins today in the home town of Ireland's most famous scientist. Family Fun Day at Lismore Heritage Centre will include opportunities to take part in hands-on, fun science experiments as well as science shows and performances. Over 50 science events with over 5,000 participants will take place across county Waterford during the week.
Limerick
Celebrate Science in Limerick will include a crystal growing workshop and an Altitude demonstration with Seven Summits climber Paul Devaney at the Hunt Museum, and Science Busking at the Milk Market, all on Saturday 15th November.
Mayo
Mayo's Science and Technology Festival in the Galway Mayo Institute of Technology (GMIT) in Castlebar on Sunday 16th November will feature interactive shows for all ages – MadLabs Science Made Simple, a reptile village and a talk by Laura Gilligan, senior scientist in the office of the State Pathologist.
Galway
Galway Science and Technology exhibition in the National University of Ireland, Galway on Sunday 23rd November will include 25 shows and workshops for all ages including Sue McGrath's Chemistry Show, Dr. Ken's Scientific Circus, a Cell Explorers DNA workshop as well as Lego competitions and demonstrations.
Sligo
Sligo Science Fair also begins today with interactive displays and demonstrations for children. Public lectures on a range of topics including – Ireland's Weather: A Journey through Time, by Evelyn Cusack, Deputy Head of Forecasting, Met Éireann and weather forecast presenter for RTE; Accident, Suicide or Homicide by Dr Michael Curtis, Deputy State Pathologist and The Reintroduction of Birds of Prey in Ireland by Lorcan O'Toole, Golden Eagle Trust – will take place at 7.30pm each day this week at the Sligo Institute of Technology.
Midlands
The Midlands Science Festival is all about taking science out of the lab and into libraries, theatres, streets and younger classrooms, giving people a variety of fun ways to explore the world around them. The festival will incorporate interactive exhibits, workshops and shows including a public talk on 'What's a Wakatobi?'- a new species of bird discovered by a group of Irish scientists lead by Trinity zoologist Sean Kelly and 'The Poetry of Physics, the Physics of Poetry' by Professor Iggy McGovern.
Check out Science Week activities on Seomra Ranga HERE