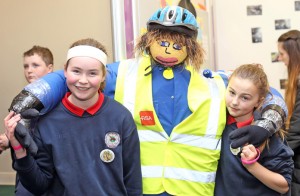 Can we drop an egg from a height and not let it break? This was just one of the questions investigated by primary school pupils at the RDS Primary Science Fair last year. This year's event takes place in January alongside the BT Young Scientist & Technology Exhibition. The image to the left shows pupils from Timolin NS, Co. Kildare at last year's event where they presented a project investigating the question "Does wearing a cheap bicycle helmet reduce head injury?"
Open to 4th, 5th, 6th class and Key Stage 2 classes, the Fair is not a competition – the emphasis is on pupils learning how to work scientifically and develop inquiry-based skills. Pupils work as a class under the supervision of their teacher on a project which should seek to pose and answer a question. The Fair also aims to support teachers to develop their confidence and skills in teaching STEM subjects using an inquiry-based approach. Teachers who have been involved in the Fair have found that it can also help pupils develop their literacy, oral language and numeracy skills.
"Where do machines get the strength to climb a hill?" Ballyadams NS, Co. Kildare at RDS Primary Science Fair 2014
This year's Fair will take place from January 8-10, 2015 and the deadline for receipt of expressions of interest is Wednesday, October 1, 2014. Further information on expressions of interest can be found on the RDS Primary Science Fair website.
Images used are © and are used with the permission of RDS Primary Science Fair