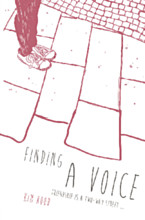 "Finding a Voice" by Kim Hood is a story of friendship and has many themes relating to it such as feeling lonely and not fitting in. It is also about the assumptions people often make about people with disability. The main character in the book is teenage girl Jo who faces two main difficulties in her young life. Her mother is unwell for much of her time and Jo worries about her mum but tries to keep her head down and remain strong. Jo doesn't like to ask for help as she fears that 'help' might mean that her mother could be taken away from her.
Jo's difficult home situation is made worse by the fact that when she goes to school she also has to keep her head down to try and avoid the mean and nasty bullies who make her life a misery on a daily basis. She thinks that she can never have friends because of her mother's condition. She feels very lonely especially at lunch times when she is nearly always on her own but when she meets Christopher, a fifteen year old boy with cerebral palsy, Jo's life changes dramatically and unexpectedly with everything beginning to look a bit brighter.
Jo meets Christopher after her mother takes a turn for the worse and is hospitalised. At school Dr. Sharon speaks to Jo and asks if she can help in any way. For the first time Jo admits to an adult that she hates lunchtime without revealing why. Dr Sharon introduces Jo to Mr Jenkins in the Special Ed department in Jo's school and she applies for the position of lunchtime assistant in the 'SE Wing'. She meets Christopher who cannot speak, has little control over his limbs and has regular seizures. He has difficulty in communicating his thoughts and what he likes and dislikes.
Christopher is a great listener and Jo finds that she can talk to him about her problems and in doing so finds that she has a new friend. Although Jo can talk easily to Christopher she wishes that he could talk to her and, despite being told by Mr Jenkins that Christopher might not understand everything, Jo feels strongly that Christopher does want to communicate and she sets out to help him do so and to make sure that he can have his say in the world. She devises various ways of helping Christopher to find his voice and talk to her but fears that he might never want to talk to her again after her dramatic and gripping intervention towards the end of the book. She discovers however that friendship is indeed a two way street.
I would highly recommend this book as it was a very good read and I would rate it 9/10.
Review by Dónal M 6th Class St. Joseph's NS, Kinvara, Co. Galway
"Finding A Voice" by Kim Hood is available to purchase from the O'Brien Press website HERE