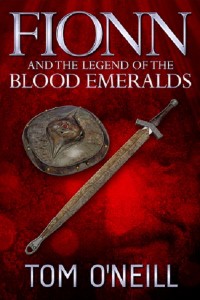 "Fionn and the Legend of the Blood Emeralds" is a new book by author Tom O' Neill. It tells the story of Dark McLean and how his Uncle Connie has been struck down by a mysterious illness that is slowly killing him. In a race against time, Dark visits a forbidden fairy fort where he crosses into the ancient realm of Fionn Mac Cumhaill. There, Dark learns of Matha, a young man who is on a weirdly similar quest to his own. As time is running out for Uncle Connie, Dark begins to understand the true meaning behind his uncle's words: "They walk among us."
Mary Esther Judy, a children's bookseller for Dubray Books in Galway, said that the novel was
"simply spell-binding, packed with lyrical story-telling, raw and complex emotional impact and evocative characters and setting. The flow of the contemporary story into the mythical is smooth, and the correlations drawn between the two stories create an ebb and flow that pulls the reader into the tale. Each chapter is genuine, believable and intriguing. The power behind the words is tangible and will keep you awake well into the night reading on…."
To celebrate the publication of the book, the author has generously given Seomra Ranga a class set of the novel as a prize for this competition. It is probably suitable for 6th class. To be in with a chance to win the prize for your class/school, simply fill in the form below with your details and answers to the questions (all of which can be found on this page!). All entries for the competition must be in by 5pm this Friday May 9th. Only one entry per teacher is permitted. The winner will be selected on Twitter (@seomraranga) after this time.
Please make sure that you give an email address that you can be contacted on immediately after the competition as teachers have forfeited prizes by not answering their emails promptly! Again, many thanks to Tom O' Neill, author of the novel, for sponsoring the prizes for this competition. Go n-éirí an t-adh libh!
This competition has now closed. It was won by Paula Harte, Waterford.
This video gives a flavour of the book:
"Fionn and the Legend of the Blood Emeralds" can be purchased on the Amazon book store and on Kenny's Bookstore website.