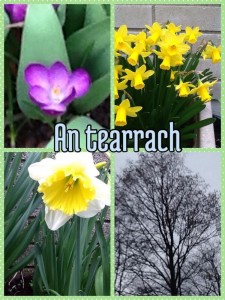 The Signs of Spring Twitter 2014 Project completed by schools across the country last week was a great success. Indeed schools from outside Ireland also took part. There was a great variety of stories, observations, images, photographs, videos all recording the arrival of Spring 2014.
A Transcript of the Twitter Project has now been put together using the Chirpstory website. All of the Tweets that included the #antearrach hashtag over the last week have been included in the transcript which can be viewed HERE It is well worth reading.
Hopefully, many more schools will take part in our next Twitter Project for Autumn 2014.
Image © Rang IV, Scoil Neasain, Baile Átha Cliath 5