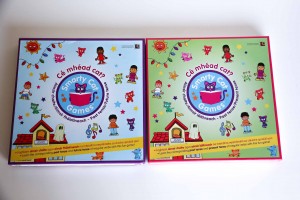 Smarty Cat Games is a Gaeilge resource which consists of ten games covering each of the ten themes of Curaclam na Gaeilge. Having previously developed a new Gaeilge resource – An Cat Cainteach (The Chatty Cat), Smarty Cat Games have now developed two new Gaeilge resources: Cé Mhéad Cat? (Past/Present tense irregular verbs) and Cé Mhéad Cat? (Past/Future tense irregular verbs)
These exciting new games assist children with learning the corresponding past/present and past/future tenses of irregular verbs in a really fun way. By playing this game pupils get a good handle on the irregular verbs, without having to spend endless hours rote learning. Children learn so much more when they are actually enjoying the activity at hand, playing these games helps the players to become much more confident in their knowledge of the past, present and future tense of irregular verbs.
Smarty Cat Games has given us one copy of each of these two new Gaeilge resources as competition prizes on the site. To be in with a chance to win one of these Gaeilge resources for yourself or your school, simply fill in the form below with your details and answers to the questions. The questions are relatively easy (hopefully!) and must be as Gaeilge. All entries for the competition must be in by 5pm this Thursday February 27th. Only one entry per teacher is permitted. The winner will be selected on Twitter (@seomraranga) after this time.
Please make sure that you give a contact email address that you can be contacted on immediately after the competition as teachers have forfeited prizes by not answering their emails promptly! Again, many thanks to Claire O' Gorman, creator of these resources, for sponsoring the prizes for this competition. Go n-éirí an t-adh libh!
Disclaimer: Smarty Cat Games is an advertiser on this website.