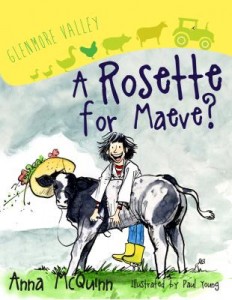 "A Rosette For Maeve?" was written by Anna McQuinn and illustrated by Paul Young. The setting was at a beef farm and at a village show. The storyline was there was a village show on and a girl called Lisa was training a calf to enter a best looking calf competition. She trained the calf to walk around in an arena and sit quietly. Some judges inspected them one by one. Lisa won in the end. She was very happy.
I think it had a predictable ending because it was one of those happy ending kind of books and you kind of knew she was going to win. I think the storyline was a bit immature but it was a good amount of words.
Review by Liam, 4th class, St. Patrick's NS Glencullen
I liked the starting because it was very good the way they described their calf Maeve and the Glenmore Fair. It had a good ending because they won the red rosette which is 1st place. They had never entered the calf competition before. So it was amazing. It was set in a farm and a fair.
Lisa lived with her brother Joe, her mom and dad in Glenmore Valley. Their calf's name was Maeve. She was a Belgian Blue.
I would give this book a score of 10 out of 10.
I think this book is for ages 7 and 8.
Review by Ella, 3rd class, St. Patrick's NS Glencullen
Book published by O'Brien Press is available HERE