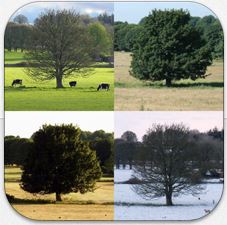 It's rare to report on the release of a new Gaeilge mobile app because they are few and far between. However, Athlone-based developer Moonswing has just released Aimsir, an Irish language weather forecast app. Aimsir uses data from OpenWeatherMap to give accurate and detailed current and seven day forecasts. Aimsir's forecasts also provide information on wind strength and direction, atmospheric pressure and humidity.
While the app is not specifically aimed at the education market, it undoubtedly has many ways in which it could be used in schools. Moonswing says that:
"In addition to providing weather information, the aim of the app is to present the user with as wide range of much Irish language vocabulary as possible. While the app is attractively designed, with many beautiful images and informative icons, a large amount of the weather data is presented in text format, so the user is exposed to a large number of Irish words and phrases".
The Aimsir app includes a detailed glossary section where all of the Irish words and phrases used are translated into English. In addition to the translations, there are other useful tools that allow you select numbers and dates and see them written in Irish. This could be useful in schools to give pupils an opportunity to create their own fictional weather forecasts based on the same format as those within the app.
It's good to read that Moonswing plans to add many more features to Aimsir in forthcoming releases, including audio clips for the Irish vocabulary. I think that this would be a great addition to the app and would give it an extra dimension.
Aimsir is compatible with iPhone, iPad, and iPod touch. It is optimized for iPhone 5. At the moment it requires iOS 7.0 or later, although I have been informed that versions compatible with earlier versions of iOS are imminent. The app costs €0.89 at the moment, reduced until December 31st, and can be downloaded from the iTunes store HERE