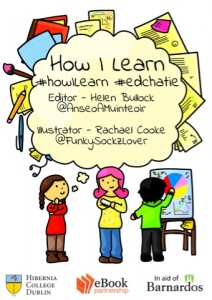 "How I Learn", the crowd-sourced book about learning styles and experiences, was launched last weekend at the CESI Meet and at the Féilte Festival of learning. It is the brainchild of Helen from the Anseo a Mhúinteoir website. Its aim is to change the way educators, parents and students learn, and how educators teach.  It all started as a result of a tweet she sent looking for a guest post on her blog under the condition that it stuck to the theme of learning styles and experiences. The hashtag #HowILearn became a hugely popular feature on her blog and got a lot of people talking!
After much deliberation, Helen decided to expand on the idea, and "How I Learn" the book was created! There was a Twitter discussion night on the #edchatie forum as well as a Google doc for any submissions that were just too long for a tweet. Some schools got involved and sent in illustrations depicting their learning styles. Adults, or lifelong learners as they like to be called, quickly joined in to share their insights with the world.
As an educator, Helen realised that everybody learns in different ways and it is this simple fact which "How I Learn" aims to exemplify. Times have moved on and it's not all chalk and talk anymore – we need to be more aware of the individual when teaching. The book also aims to highlight the fact that learners too need to find the styles that work best for them, and cultivate and encourage them to become the best learners they can be, no matter the route taken.
Within this book, readers will find submissions from primary, secondary and third level teachers. They will also read submissions from pupils, students and parents about how they learn and in some cases, where they struggle to learn.
Earlier this year Helen launched a Fund It campaign to source funding for the printing and publication of the book. This campaign was successful and the book has now been published. The digital version of the book is available to purchase on Amazon HERE and it's also available on the iTunes store HERE If you want a paper version of the book, contact Helen at anseoblog@gmail.com
All proceeds from the sale of this book go towards the Barnardos charity