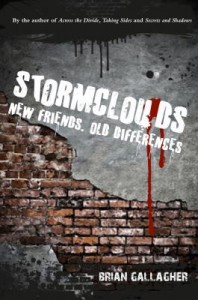 Title: Storm Clouds – New friends. Old differences
Author: Brian Gallagher
Publisher: O'Brien
Published : 2nd September 2013
Main characters: Emma, Dylan, Maeve, Sammy, Sammy's Da, Aunt Nan, Uncle Jim.
Themes: Troubles in Northern Ireland; Friendship.
This story is about four kids, all of whom are 12 years old. Emma and Dylan are twins from America. Maeve is a nationalist from Dublin and Sammy is a loyalist from Belfast. Maeve and Emma go to the same running club and Dylan and Sammy do football together. They all live in different areas of Belfast. Maeve and Sammy met at Dylan and Emma's barbeque. At first they don't get on but after a while they become friends. Sammy's Da drinks a lot of alcohol and very adamantly despises Catholics. Sammy breaks his leg whilst off with his friends and Maeve's dad.
Sammy's dad doesn't know that Sammy is friends with Maeve so Dylan walks him to the door, knowing that Sammy's dad would be angry at Sammy. At the Wanderers soccer club, a boy called Gordon bullies Dylan because he's Jewish and the other boy is Protestant. They were going to fight but their coach, Buckie, called it off. Whilst at an art exhibition, all four children witnessed a fully blown riot outside their window. When the twins are in Nerja, Spain, their dad had to report on the riots because he was a journalist. The kids and their mother stayed but their dad left. They were worried their dad, Maeve, or Sammy would get in some kind of trouble. When they get back, the rioters have started to burn down buildings and shoot people on Catholic streets. Emma and Dylan make plans to save Maeve, but get caught by their parents. In the end its Sammy who rescues her.
My favourite part is where Sammy stands up to his Da.
My least favourite part is when Bombay Street ( where Maeve lives) is being burned down.
Rating: I would give this book 10 out of 10.
Recommendation: I would recommend this book to 9 years upwards. I think kids and adults will enjoy it.
 By Joshua, Rang VI, Ransboro NS, Sligo
Title: Stormclouds.
Author: Brian Gallagher.
Publisher: O'Brien Press
Genre: Historical fiction and suspense.
Pages: 220.
Books by the same author: "Across the Divide", "Taking Sides" and "Secrets and Shadows".
Summary: This story is set in the 1960's, in Belfast, during the Civil Rights Movement. An unlikely friendship between four twelve-year-olds, but one of them is from the nationalist community and another is from the loyalist community. The two boys, Dylan and Sammy, met at the Wanderers football team training. The girls, Emma and Maeve, met when they were at a running race. When Maeve's house is set on fire will Sammy save his friend or will he stay true to his loyalist background like his father wants him to?
Recommendation: I would recommend this book to ten-year-olds and anyone older.
Comments: Brian Gallagher makes you feel as if you are really there. He is a very talented writer. When you are reading this book you will never want to put it down. This book is a real page-turner.
By Sophie-Leigh, 6th Class, Ransboro NS, Sligo