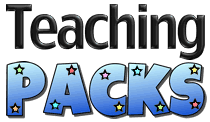 The Teaching Packs website comes from the same website stable as Teaching Ideas, Teaching Videos, Teaching News, Teaching Photos and Teaching Appz. It is a website of printable classroom resources for teachers which are arranged by theme and have been created by Mark and Helen Warner. At the moment there are ten sets of themed resources available to download: The Calculator Pack; The Maths Vocabulary Pack; The Times Tables Pack; The Pirates Pack; The Persuasive Writing Pack; The Punctuation Pack; The Goody Pack; The Classroom Essentials Pack; The Classroom Rewards Pack; The Early Morning Activity Pack. There are plans for the development of more teaching packs resources in the coming months.
As an example, The Early morning Activity Pack has 200 ideas and activities designed for pupils to complete at the beginning of the school day. They're open-ended activities, covering a wide range of subjects and topics, that can be completed independently. Of course, they could also be used at other times of the day, especially as "early finishers" activities. These resources are arranged into four 50-page activity books. They are also available to download as smaller activity cards which could be used for the "early finishers". They include various types of English writing, maths activities and visual art activities.
The Goody Pack has a great set of photo cards to be used as writing prompts as well as setting cards for creative writing. There are also matching maths puzzles covering fractions, decimals & percentages and maths dominoes.
The Classroom Essentials Pack has 210 resources with 25% more still to come in that pack. The Classroom Rewards Pack has Reward Charts, Banners, Certificates and other resources.
However, for those teachers who are regular visitors to Seomra Ranga and are used to downloading free resources, there is a cost for membership to this site. A year's membership costs £12 which allows you to download any or all of the resources available on the site as well as any future resources developed during your membership period. If you are unsure whether you want to spend this money on membership, there is the option on the site to download a sample pack to see if you like the resources.
Mark Warner, one of the creators of the site, has kindly made available a special offer for Seomra Ranga regulars – by using the special discount code (SEOMRARANGA) when applying for membership, you can get a year's access to the resources on the site for £10 instead of £12.
Check out the Teaching Packs website HERE