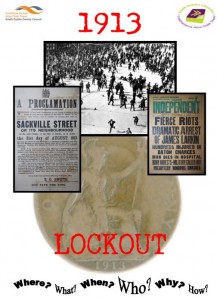 Again, thanks to Twitter, I was alerted to this resource pack put together by South Dublin Libraries who, in 2013 in association with Poetry Ireland (Writers in Libraries Scheme), presented Writing History: 1913 Lockout, a project which brought two authors to six schools via the library service. This information pack has been created by South Dublin Libraries as part of this project, and is the first of a series of centenary commemorative booklets that are part of their ongoing commitment to preserve our history through education.
The Resource Pack contains a booklet for pupils and classes and an explanatory booklet for teachers. They are both well laid out and explained in language that is easily accessible. As the teachers' notes explain:
"The aim of this pack is to explain the 1913 Lockout to children aged 11 to 12. By its nature, this period is a difficult one to easily explain to this age group encompassing, as it does, concepts like industrial relations, capitalism, policing and pre-decimal currency".
The subject matter is divided into ten short modules which are written to make the subject matter easily studied and understood by the pupils. The modules are: Some Hard Stuff Explained; Timeline: Facts and Dates; Jim Larkin; William Martin Murphy; Children of 1913; Housing; Social Conditions; Working Conditions; Meet the People; Aftermath. The teachers' notes also give some tips for discussion of the topics in the classroom.
These resources can be downloaded on the South Dublin Libraries website HERE
Further background information for the teacher on the 1913 Lockout can be found on the 1913 Lockout website HERE