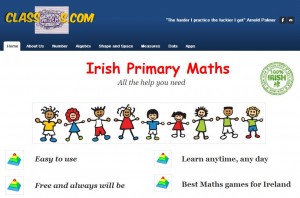 Class Maths is an Irish Maths website that has been developed by David Brennan, an Irish primary teacher, over the past year. It is a free resource for teachers, pupils and parents to use and contains links to various Maths games which are suitable for primary school aged pupils. David says that he initially set up the site for his own class and it was due to positive feedback that he has decided to expand it for all levels in primary school. His intention is to continue to expand it and update it on an ongoing basis, adding new relevant interactive maths content.
David's overall aim is to build a comprehensive primary school Maths interactive resource that is educationally sound, trustworthy and reliable for students/teachers/ parents to use. The site is specifically geared towards the Irish Primary Maths curriculum and links to maths websites are arranged according to the strands of the Irish primary maths curriculum.
It would probably be useful if, down the line, the links could also be arranged according to class grouping, to make it easier when searching for a link specifically suitable for a particular class. However, this is a great addition to the primary teacher's toolbox and one that probably many teachers will want to bookmark for further reference.
Visit the Class Maths website HERE