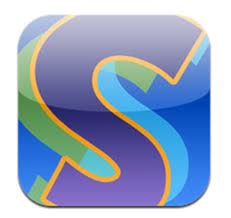 Shake a Phrase is a language app for the development of reading, vocabulary, grammar and writing. The app presents the content under five different themes – Animals, Fairytale, Monsters, Sports and Shake Starter. Using these themes, there are three sections to the app – Shake It, Story Starter and Quiz Me.
In the Shake It section, pupils can click the "Shake It" button or physically shake the mobile device to create a new sentence. Most of the sentences are silly, humorous, entertaining sentences which pupils will enjoy. Aimed at the 8+ age group, the app has more than 2,000 vocabulary words which should help with vocabulary development. If a pupil does not know a word, they can touch it and a pop-up box will tell them what type of word it is (noun, adjective, verb etc) as well as an explanation of the word.
In the Story Starter section, pupils can again click the "Shake It" button or physically shake the mobile device to create a sentence that can be used as the basis of a story which can be told orally or written. In the Quiz Me section, pupils are given sentences from which they have to identify parts of grammar in the sentence – nouns, verbs, adjectives, prepositions and conjunctions. They can work their way through the levels of this game, during which the game becomes progressively more difficult. This game can be customised to focus on any particular aspect of grammar that the teacher wishes to emphasise.
During any of the games, a pupil can "favourite" a sentence which can be kept in the "Favourites" section of the app. They also have the option of sharing a sentence via email, IM, Twitter or copying the phrase to paste into another application.
It would great if the app had the option of having a sentence read to the pupil or even hearing individual words that they do not know. However, this is a very small negative in what is overall a great app.
The app is available for iPhone/iPod, iPad and is also available for Android devices. The app costs €1.79 (iTunes) or €1.49 (Android) but there are no further in-app purchases or advertising.