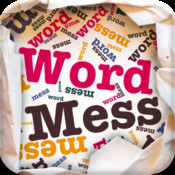 Word Mess is a new app that I think pupils will love and it comes with a word of warning – it is quite addictive! If your pupils like word games like puzzles, wordsearches or crosswords, then they will love this app. It is a cross between a type of wordsearch and a word cloud. There are two main sections in the app – Challenge and QuickPlay. Quickplay has three different games – Find, Category and Rhymes.
In the Find game, you have to find a particular word in the word cloud and tap it quickly. The word may appear a number of times and you have to find all of them in the shortest time possible. The words appear on the screen in different colours and in different orientations. Some words may move slightly on screen, adding to panic in trying to find the particular word! You can earn points for finding the words and for doing so quickly.
In the Category game, you have to find a number of words that are associated with a particular topic eg. food, sports, grocery store etc. In the Rhymes game, you have to find words in the word cloud that rhyme with a particular word. This may be the most challenging game for pupils as the rhymes may be either sight rhymes or sound rhymes. So for example if you have to find words that rhyme with "More" you have to find the words fore, pour, bore, score. If you run out of time, the game will tell you what words you have missed. You can also pause a game, during which time the words will disappear from the screen until you resume the game.
The Challenge section of the app randomly selects one of the other three games for you to play as you go up through the levels, earning points as you go. Your score can then be recorded on a Leaderboard.
This word game looks great with clear and colourful graphics. It is extremely easy to understand so the learning curve is quite small. It has background music that is reminiscent of an 80's style video game or of the Beverly Hills Cop series of movies! It has been featured by Apple as the number one staff pick in educational apps. The app is available in the iTunes Store for the iPhone/iPod and for iPad costing €1.79. I could not find an Android version of the app.