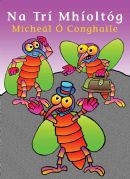 Many thanks to all of the teachers who entered our competition with Cló Iar-Chonnacht for prizes of  books as Gaeilge for the first week of Seachtain na Gaeilge . It was a great success. Many thanks to Cló Iar-Chonnacht for sponsoring the prizes. Most people found the questions quite easy, but just to confirm, the answers were:
1. Cé a bhuaigh an Oscar don amhrán is fearr i mbliana? (Adele)
2. Cén contae ina bhfuil Cló Iar-Chonnacht suite? (Gaillimh)
3. Cé a scríobh an leabhar "Birbal"? (Gabriel Rosenstock)
4. Cén dornálaí ina bhfuil mar ambasadóir Sheachtain na Gaeilge 2013? (Paddy Barnes)
5. Cad is ainm don Éireannach atá sa bhanna "One Direction? (Niall Horan)
The draw for the prizewinners took place on Thursday evening on Twitter. The winners were randomly selected by @rangRose. The winners of the five books were:
1. Marian Hanley, Kenmare, Co Kerry
2. Treasa Uí Néill, Ceatharlach
3. Phil Cushen, Swords, Co. Dublin
4. Fiona Ní Bhuachalla, Cork
5. Áine Bn Uí Daltúin, Tipperary
Many thanks to all who entered the competition and congratulations to all of the winners whom I have contacted via email. The books should be on their way to you very soon. There will be another great book competition next week for the second week of Seachtain na Gaeilge.