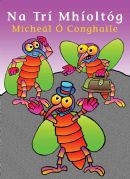 To celebrate the first week of Seachtain na Gaeilge, Cló Iar-Chonnacht have kindly sponsored five books as Gaeilge as prizes for a competition on the site. Cló Iar-Chonnacht (CIC) was founded in 1985, and since then they have published over 300 books and 150 music albums. Based in Inverin, Connemara, it is among the most productive publishing houses in the country.
Cló Iar-Chonnacht has kindly sponsored the following books for the competition:
1. Murcha Mór by Jane Clarke, Charles Fuge and Micheál Ó Conghaile – Ever since Murcha the Great White Shark was young, Seáinín stuck to him like glue. Then, one day, Murcha woke to find Seáinín gone… More Info
2. Birbal by Gabriel Rosenstock – Birbal was a clever fool, according to some, and although he lived a long long time ago, they're still talking about him, from Dingle to Darjeeling! More Info
3. Hóng by Anna Heussaff – Hóng is a computer game Evan loves to play on the internet. But then he gets a strange message from another player, Yin, begging for help – not inside the game, but out in the wide world. More Info
4. Fear na bPéistíní by Gabriel Rosenstock – A great mix of stories in this new publication from Gabriel Rosenstock, the first edition of which proved very popular. This book can be read by anyone, anywhere, any time! More Info
5. Na Trí Mhíoltóg by Micheál Ó Conghaile – If you're not strong then you'd better be clever, so says the proverb, and in these stories, re-tellings of tales from folklore, the underdog always wins the day. More Info
Juliane from CIC tells me that:
"I have chosen books that would suit a range of abilities in the Irish language. They are colourful and inviting, so not too off-putting for a non-fluent speaker. They are all captivating stories so would still suit children with intermediate / confident level of Irish. The only exception is Hóng which is a novel suitable for ages 10-14 but would more likely suit children with confidence in the Irish language. It is the only non-picture book. The other books suit ages 5/6 up to 12."
To be in with a chance to win one of these great books for yourself or your school/class library, simply fill in the form below with your details and answers to the questions. All entries for the competition must be in by 5pm this Thursday March 7th. Only one entry per teacher is permitted. Winners will be announced on Twitter after this time. Please make sure that you give a contact email address that you can be contacted on, on Thursday/Friday, as some teachers have missed out on prizes in previous competitions because they didn't answer their email. Again, many thanks to Cló Iar-Chonnacht for sponsoring the books for this competition. You can follow Cló Iar-Chonnacht on Facebook and on Twitter.