My Role as Ombudsman for Children
In December 2003, following an open and innovative recruitment process in which children and young people played a significant role, I was appointed Ireland's first Ombudsman for Children by President Mary Mc Aleese. In December 2009, I was reappointed for a second term of six years. As Ombudsman for Children, my job, and statutory responsibility, is to promote and monitor the rights and welfare of children up to the age of eighteen and to ensure that in law, policy and practice children's best interests are considered. My specific obligations in this regard are set out in primary legislation, the Ombudsman for Children Act, 2002. Principal among them are:
• to promote public awareness of children's rights, including the UN Convention on the Rights of the Child and including among children;
• to give advice to the Government on any matter affecting children, including relevant developments in law and public policy;
• to encourage public organisations to develop policies, practices and procedures that promote children's rights and welfare;
• to consult children and highlight issues relating to their rights and welfare that are of concern to children themselves;
• to deal with complaints made by or on behalf of children in relation to schools, hospitals and other public organisations.
The 2002 Act also provides for my independence in exercising my statutory obligations and, accordingly, I am directly accountable to the Oireachtas.
The OCO's Education Programme
Since the Ombudsman for Children's Office (OCO) was established almost nine years ago, we have engaged with hundreds of schools across the country and heard from thousands of children, parents and professionals working in the education system. Through this work, we understand the significant roles that principals, teachers and other professionals working in schools play in children's lives and the different ways in which schools are involved in promoting and protecting a range of children's rights on a daily basis. Indeed, it is the experience of my Office that, while parents are the most tenacious advocates for children, teachers and principals are among those professionals who are willing to act and advocate on behalf of children, including children who are among the most vulnerable in our society.
As you can imagine given the central role of education in children's lives, my Office has occasion to engage with schools and the wider education system in a variety of ways and in respect of a diverse range of issues, including relevant developments in legislation and public policy and such matters as provision for children with special educational needs, school transport, and bullying. I would like to take this opportunity, however, to bring our education programme to your attention and, in particular, the education workshops that we deliver at the OCO on a twice-weekly basis for visiting groups of children and their teachers.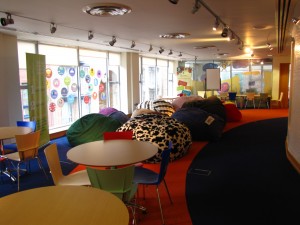 The Ombudsman for Children's Space
Designed to complement curriculum teaching and learning, these workshops enable us to engage directly and on an ongoing basis with schools across the country. During the workshops we introduce children and young people to our work and facilitate them to explore matters relating to children's rights and responsibilities through age-appropriate activities that encourage them to collaborate in exploring connections between children's rights and matters arising in their lives and the lives of other children and young people living in Ireland.
These workshops are also a valuable opportunity for us to listen to and learn from the experiences and perspectives that are shared with us both by children and young people and by their principals, teachers, SNAs and HSCL teachers. At primary level, the workshops are suitable for children in third to sixth class. They are free of charge and we reimburse transport costs for groups visiting our Office in Dublin to take part.
We are always particularly delighted to hear from schools and teachers with whom we may not have had any previous direct contact. If you would like to find out more about the opportunity to visit my Office with your class, I would encourage you to visit our website www.oco.ie, phone us on (01) 8656800 or email us at oco@oco.ie.
Emily Logan has spent 30 years working with or on behalf of children. Having originally trained as a paediatric nurse in Dublin's Temple Street University Hospital, she spent ten years in the UK working at Great Ormond Street hospital, holding both clinical and laterally, the senior management position as Manager of the medical directorate.
She returned to Ireland where for six years preceding her appointment she held two senior positions in public administration; Director of Nursing at Our Lady's Children's Hospital Crumlin, and later Director of Nursing at Tallaght Hospital.