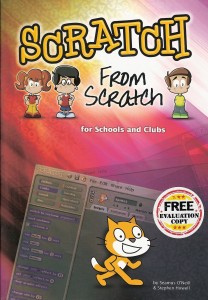 Many of you will have read about the recent publication of the "Scratch From Scratch" book by Seamus O' Neill and Stephen Howell. I'm very grateful that they have given me five copies of the book as prizes for another Seomra Ranga competition.
This is a limited edition run of the publication, so it's a prize well worth having, especially if your school is teaching Scratch. Seamus and Stephen say that the book has been written to be accessible to young and old, but primarily with the teacher or mentor in mind. This book is the first of a planned three-part text and this edition covers the "Tools and Skills of Scratch".
To be in with a chance to win one of these books for yourself or your school, simply fill in the form below with your details and answers to the questions. The questions are relatively easy and relate to the Scratch programme. All entries for the competition must be in by 5pm this Friday October 26th. Only one entry per teacher is permitted. Winners will be announced on Twitter after this time. Please make sure that you give a contact email address that you can be contacted on over the Hallowe'en break. Again, many thanks to Seamus O' Neill and Stephen Howell, co-authors of the book, for sponsoring the books for this competition. Good luck to all.