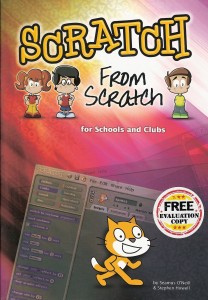 Many thanks to all of the teachers who entered our competition for a copy of the Limited Edition "Scratch From Scratch" by Seamus O' Neill and Stephen Howell. It was a great success. Many thanks to Seamus and Stephen for sponsoring the prizes. Most people found the questions quite easy, but just to confirm, the answers were:
* Scratch was developed by MIT
* The Scratch character is called a Sprite
* Stephen Howell is a co-author of the book
* Coderdojo is the programming club that also teaches Scratch
* Scratch software is free
The draw for the prizewinners took place after the 5pm Friday deadline on Twitter. Hugh Lynn, a Roscommon teacher (who hadn't entered the competition), randomly selected five numbers for me via Twitter. The winners of the five books were:
1. Clare Wallace, Thurles, Co. Tipperary
2. Órla Mhic Lochlainn, Cobh, Co. Cork
3. Diane Robinson, Letterkenny, Co. Donegal
4. Connie Mc Mahon, Limerick City
5. Liam Lawlor, Kilmore, Co. Wexford
Many thanks to all who entered the competition and congratulations to all of the winners whom I have contacted via email. Hopefully, we'll have another competition on the site very soon.