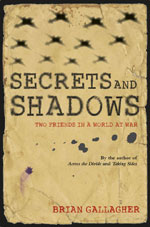 Secrets and Shadows by Brian Gallagher is set during World War Two. Barry Malone is a twelve year old boy from Liverpool, sent to Dublin by his mother after the Luftwaffe air-raid in 1941. There he meets Grace Ryan – an outgoing adventurous Dublin girl forced to move in with relatives on Arbour Hill after her home in the North Strand was bombed by a Nazi aircraft.
The pair become good friends and live a pretty normal life for children of that time. That is, until Barry suspects his Polish drill teacher Mr Pawlek of being a Nazi spy. Every day Grace gets more interested and eager and their adventure more dangerous.
This book is a real page turner. I would give this book a perfect 10/10 and highly recommend it to anyone aged 11-15.
 By Kaitlin, Rang VI, Sligo
Secrets and Shadows by Brian Gallagher is published by O' Brien Press.