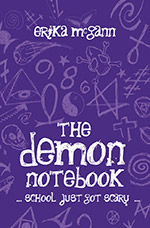 "The Demon Notebook", published by O' Brien Press, is the first book written by author Erika McGann.
The book is about five girls who want to be witches. They try to cast spells but they never work until one day, after using a Ouija board, one of the girls becomes possessed by a demon. Suddenly all of the spells they have ever cast start working! The girls look for help to get rid of the demon from their friend before it's too late. If they don't then the first spell they ever cast will come true and the school bully will be run over by a bus!!
I really liked this book but it was very scary so it's probably more suitable for older girls. If you like to be frightened then read this book. It's perfect for Halloween!!
By Caoimhe, aged 8, Co. Wexford.