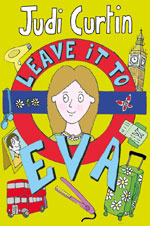 "Leave it to Eva" is the latest book by the author Judi Curtin. This story is about a girl called Eva Gordon who is looking forward to returning to Seacove with her family for the second summer in a row! She can't wait to see her friends Kate and Lily. Seacove is a place that Eva loves and she has many great memories from the previous Summer. But when Eva returns to Seacove everything is not so lovely anymore! Eva's friend Kate is in a bad situation and Eva has to help her before going to London with her BFF Ruby!
I really enjoyed this book but I think it's more suitable for girls around 10 years old. If you like Jacquline Wilson's books, then you will love this book!
By Treasa, Age 12, Co. Meath
Thanks to O'Brien Press for the advance copy of the book for review.