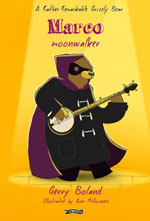 Marco Moonwalker was written by Gerry Boland and illustrated by Áine McGuinnes.
Marco the bear has escaped from the zoo and is living with Patrick and his mum. Marco is very smart and intelligent; he also has a talent for music. He can play the banjo and the trombone. He also likes to dance to Michael Jackson, so Patrick has an idea "Let's start a band" he says. He named it the 3 m's, Mum Me and Marco. Marco got famous because he played at a concert. Mum made him special gear so no one would notice that he was the missing bear from the zoo, but something bad happens. He was spotted with no mask on and he was brought back to the zoo. Mum has a plan and hopefully he will be back at home in no time!
Marco is my favourite character because he is talented and likes music like me. I liked this book because it was interesting and funny. I did not like the way the book was short. I would recommend this book to 7-8 year olds.
Book Review by Leanne, Age 10, Co. Kildare.