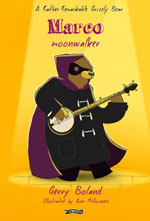 Do you have young readers at home who are looking for some new reading material during this dismal summer? Seomra Ranga has advance copies of three children's novels, all by Irish authors, that young readers may be delighted to get their hands on. The catch is that the young reader must be prepared to read the book immediately and to write a review of the book for the Seomra Ranga website. The review should contain all the usual elements of a book review: a summary of the plot; how the book compares to others by the same author; what you thought of the book, the characters, the plot, the style of writing; how you would rate the book; who would you recommend should also read the book. If your child is prepared to do this, send me an email immediately to info@seomraranga.com giving me the postal address of either you or your child and letting me know which of the following three books they are willing to review.
Marco Moonwalker by Gerry Boland (For readers aged 6+)
After escaping from the zoo and coming to live with Patrick and his mum, Marco proves to have many talents. Now Patrick discovers that Marco is also a musical genius – he can play the trombone, banjo and even moonwalk like Michael Jackson! 'Let's start a band', Patrick says, and Marco becomes a star.
Then disaster strikes. He is spotted without his mask and taken back to the zoo. How will Patrick and Mum get him out again?
This is the third book in the "Marco" series from Gerry Boland after "Marco Moves In" and "Marco: Master of Disguise".
Leave it to Eva by Judy Curtin (For readers aged 10+)
Fun, feisty Eva Gordon always tries to help her friends, but this time she might have a problem that's too big even for her …
When Eva and her family go to Seacove, she's looking forward to seeing her friend Kate, but things have gone very wrong for Kate and this time Eva's not sure if she should help her …
It's not just Seacove Eva's visiting – her friend Ruby offers her the chance of a visit to London. And there may be a way the trip with Ruby can help Eva sort things out for everyone …
If you have a problem that needs solving, just leave it to Eva!
This is the third book in the "Eva" series by Judy Curtin after "Eva's Journey" and "Eva's Holiday".
The Demon Notebook – School Just Got Scary by Erica Mc Gann (For readers aged 10+)
Grace and her four best friends, Jenny, Rachel, Adie and Una, are failed witches – and they have a notebook full of useless spells to prove it. But one night, they stumble upon real magical powers – and their notebook takes on a diabolical life of its own.
The girls watch, helpless, as, one by one, their spells start to work, moving relentlessly towards the worst one of all …
Can Grace and her friends stem the wave of powerful magic … before tragedy strikes?
This is a first novel from Erica Mc Gann