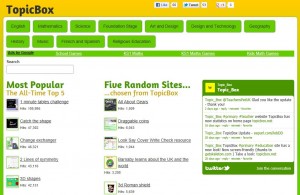 Topicbox is an English-based website which has been around for six years, slightly longer than Seomra Ranga. However, I only recently became aware of the site through Twitter. The site provides links to free resources on the internet across a wide variety of curricular areas. Although it is based on the UK curriculum, there are many parallels with the Irish curriculum and I'm sure that many Irish teachers would find resources that are equally suitable for their classroom.
There are sections on English, Maths, Science, Foundation Stage, Art & Design, Design & Technology, Geography, history, music, French & Spanish and Religious Education. Within each category, there are also many sub-categories to help the teacher find the resource that is most suitable to their lesson. For example, the English section is further broken down into Spelling, Comprehension, Alphabet, KS1, KS2, Rhyming and Alliteration and some of these are broken down into further sub-categories. Most links open in a new window and link to an outside site where there are activities suitable for an IWB or there may be videos to watch.
Have a look at the site to see what you think. It's at http://www.topicbox.org.uk/ Leave a comment below about your views on the site.