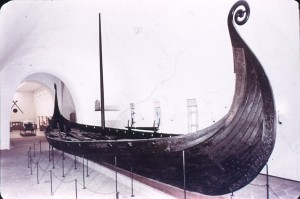 Presentation which is intended to give pupils some background information about the history of the Vikings as well as information about the arrival of the Vikings in Ireland. The presentation shows examples of Viking transport, weapons and jewellery.
A set of teacher's notes accompanies this resource. These are for teacher information only and are not intended as a commentary to be read to pupils for every slide in the presentation. There is one set of notes in English and another set as Gaeilge. There is great, detailed information about the Vikings in these notes.
This resource has been digitised from a filmstrip resource made available to schools by the Department of Education in the 1970's and 1980's. Some parts made be dated and it is up to the teacher to make it relevant to the present day.
Download Teacher Notes (.pdf file 4.45MB)
Íoslódáil Nótaí an Mhúinteora (comhad.pdf 4.55MB)