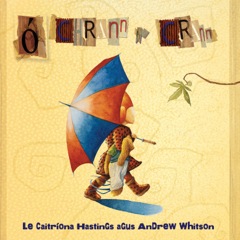 Ó Chrann Go Crann (From Tree to Tree) is a new bi-lingual story app told in English and Gaeilge within the one app. Because it is rare to see any apps in the Irish language, I was interested to see what this app was like. Written by Caitríona Hastings, the story is narrated in both English and Gaeilge by Mairéad Ní Mhaonaigh, better known as a singer with the folk group Altan.
The app tells the story of a young girl called Nia, whose world is about to be turned upside down when her father gets a new job, forcing the family to move house from the idyllic countryside to a new house in the city. Nia is going to miss many things about her life in the countryside, but she is especially going to miss her friends the crows who live in the oak tree at the bottom of the garden. However, the  crows enlist the help of other crow friends to help ease the transition for Nia to her new life in the city.
This app is beautifully illustrated by Andrew Whitson and looks particularly well on an iPad. It has background music to assist in the telling of the story but this can be turned off if desired. There are interactive elements on most pages of the book where the reader can tap an object to hear a sound effect or create some movement on screen.
There were a couple of drawbacks for me with the app. Firstly, it seems a simple expectation, but you cannot get to the next page of the book with a finger swipe, instead a button at the bottom of the screen has to be touched. The Gaeilge version of the story, narrated by Mairéad Ní Mhaonaigh, is in a Donegal dialect which may not suit all pupils. Lastly, I found that the text in places was quite small and spidery and I wondered if pupils would have difficulty in reading it, especially if it was projected onto an IWB. I'd also like to have the option of having the text highlighted as it is being read so that it is easier for pupils, especially younger pupils, to follow and learn new sight vocabulary. These are all just small observations and things that could be considered if there is to be a future app update.
It's great to see a new book app for children that is geared towards the Irish market so the developers are to be commended for making this available. This story is also available as a book and it has been nominated in the CBI Book of the Year Awards, to be announced in May. More information on the book/app can be got from the Ó Chrann Go Crann website. The app costs €3.99 and is available in the iTunes Store.