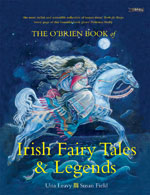 Thanks to all of the teachers and student teachers who entered our competition with O'Brien Press for a copy of "The O'Brien Book of Irish Fairy Tales and Legends" by Úna Leavy. It was a great success with 106 entries. Many thanks to O'Brien Press for sponsoring the prizes. Most of you found the questions quite easy, but just to confirm, the answers were:
Cúchulainn's name before he killed the hound with the sliotar was Setanta.
In the story of the Children of Lir, Aoife turned the children into swans.
Niamh Cinn Óir married Oisín.
Deirdre became known as "Deirdre of the Sorrows".
The barbers that cut the hair of Labhraidh Loingseach were all killed.
The draw for the prizewinners took place after the 5pm Thursday deadline on Twitter. Ian Fleming (@IanFleming1 on Twitter),  randomly selected five numbers between 2 and 107. The numbers he selected were 7, 34, 52, 61 and 99. Entry 61 had one answer incorrect so Ian then selected entry number 78. The winners of the five books were:
7: Edel Collins, St. Colmcille's GNS
34: Mary Foskin, Scoil an Bhaile Nua, Newtown, Co. Waterford.
52: Lisa O' Leary, Scoil Mhuire Gan Smál (Cailíní)
99: Kathryn Dunne, St. Malachy's NS, Dundalk.
78: Nóirín Uí Mhurchú, Scoil Eoin
Many thanks to all who entered the competition and congratulations to all of the winners and I will be in contact with you via email. Hopefully, we'll have another competition soon.