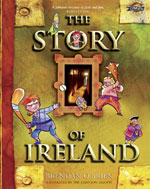 To celebrate St. Patrick's Day, the O' Brien Press has kindly given us five copies of "The Story of Ireland" by Brendan O' Brien as prizes for a website competition. The Story of Ireland begins "After the Ice" and lasts 9,000 years. It tells the story of the whole island and its people. The book's 27 chapters chronicle invasions, wars, Christianity, famine and a divided island, mixed with tales of Celtic head hunters, mysterious stone tombs, the Vikings, the Black Death, life in castles, the Titanic tragedy, music, mobiles and computers. When it ends a new story is just beginning.
With beautiful and humorous illustrations throughout (by Cartoon Saloon, the Academy Award nominated animation studio), and visual jokes on each page, the history of Ireland is presented in an engaging and readable manner. The Story of Ireland recounts the entire history of Ireland from the ice age to the present day, ties in with the school curriculum, and is excellent for school projects – this is one book that no library or classroom should be without. O' Brien Press also has Activities and Resources as free downloads to accompany this book.
To enter the competition to win a copy of the book for your class/school library, simply fill in the form below with your details, answer the questions and submit the form before 5pm on Thursday March 22nd. One entry per teacher please! The questions are all part of "The Story of Ireland" and hopefully they aren't too difficult. Go n-éirí an t-ádh libh.