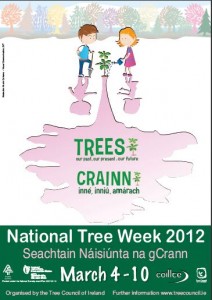 National Tree Week takes place from 4-10 March 2012. It is an annual, week-long festival celebrating all positive aspects of trees in our lives and environment. It is organised by the Tree Council of Ireland. This year's theme is 'Trees – Our Past, Our Present, Our Future'. During National Tree Week, as well as prompting people to plant more trees, people are being asked to celebrate our remarkable heritage of trees and woodlands and to recognise the significance of trees and forests as a living link to our past, as an enjoyable, life-enhancing asset in the present, and as a wise investment in our future.
National Tree Week is an opportune chance for Tree Council member organisations, local authorities, tidy towns and community groups, schools, families and many others all over Ireland to do something positive for their local landscape. By setting up events for National Tree Week within your community or organisation, you can inspire people, young and old, to get out into the fresh air and together plant thousands of trees. It is great fun too – even on a wet blustery day, the thrill of going out and getting your hands dirty, something many of us don't do often enough, is really rewarding and satisfying whether you are planting one tree or a hundred.
One of the main projects of National Tree Week 2012 is the distribution of over 15,000 trees, sponsored by Coillte, and distributed by local authorities throughout the country to local community groups and schools for planting during and around National Tree Week. If your school or community group would like to receive some of these trees for planting during National Tree Week, contact your local County or City Council.
The Tree Council of Ireland have Downloadable Resources available for primary schools organised by class level. They are available in English and Gaeilge.