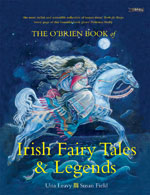 Such was the success of last week's competition, that we're going to do another to celebrate the forthcoming Easter holidays! This time O' Brien Press has kindly given us five copies of the new paperback edition of "The O' Brien Book of Irish Fairy Tales & Legends" by Una Leavy. The book contains ten well-known and loved legends: How Cúchulainn Got His Name; The Magic Shoes; Deirdre and the Sons of Uisneach; The King's Secret; The Children of Lir; The Giant's Causeway; The Bodach of the Grey Coat; The Pot of Gold; Tír na nÓg and The White Gander. The stories are retold by author and poet Una Leavy and beautifully illustrated by Susan Field.
This book ties in well with the English curriculum as well as the Story Strand of the SESE History curriculum. It's a great way of introducing these traditional Irish tales to a new generation of children. No library or classroom in Ireland should be without this book.
To enter the competition to win a copy of the book for yourself or your class/school library, simply fill in the form below with your details, answer the questions and submit the form before 5pm on Thursday March 29th. Winners will be announced on Twitter after this time. One entry per teacher please! In order to give others a chance to win a prize, winners of last week's competition are ineligible to enter. The questions are all related to stories in "Irish Fairy Tales and Legends" and hopefully they aren't too difficult. Go n-éirí an t-ádh libh.