I think we'll all agree that times have changed. The Digital Age means that technology is now very much a part of our children's lives, at home, in the classroom and socialising with their friends. But with so many issues to worry about, from cyber-bullying to social networks, the easy thing to do would be to not let them go online at all. However, we must remember that the Internet is a valuable learning tool for children of all ages as information has never been more accessible. As well as complementing their school work, children can learn exciting new things about the world around them and have access to interactive educational materials through websites, games and video content. Being technologically competent is also critical to their future employment prospects. In the same way we want to teach our children how to be safe in their day to day life, from road safety to stranger danger, the same principles apply in the virtual world.
So, who has the responsibility to teach Internet Safety? As with so many things, education must begin at home. It's up to parents to introduce safe Internet use to their children. It's never too early to make children aware of what is safe to share online and how things or people who are online are not always what or who they seem. Parents must understand how their children use the Internet, protect and support them, to allow them to be able to take full advantage of the technology available to them. Educating children on the importance of Digital Safety must continue outside the home and into the classroom. The important role that teachers play is now recognised and an awareness initiative from the NCTE called Webwise has been developed which provides information, advice and tools for teachers and students.
On a global front, Safer Internet Day is on February 7th 2012 and centres on the theme "Connecting Generations and Educating Each Other" where users, both young and old, are encouraged to "discover the digital world together…safely"!
7 top tips for safe Internet use in the classroom
1. Ensure that the relevant Internet Safety tools have been implemented to limit your pupils' access to content, website and activities. For example, if your students are browsing the Internet using the Google search engine then Google SafeSearch should be setup. See this post for more information about implementing Google Safe Search for safe Internet Browsing and this post on configuring YouTube Safety Mode
2. Set clear rules about what the children can and cannot do
3. Explain that not everything and everybody they see online will be as they seem and that people can sometimes hide their true identities
4. Supervise. It's very important to be continuously monitoring their usage and keeping an eye on what they're doing
5. Remind children that they should never share personal information such as their name or their address online. Help children to create online nicknames if a website requires them to submit names to personalise the web content
6. Make sure that children feel that they can come to you if they come across something that makes them feel uncomfortable
7. It is very important that the children realise it is not their fault if they do find something untoward.
Most importantly of all, you and your class should enjoy learning from, and having fun using, the Internet and by following these simple rules you'll ensure that this happens.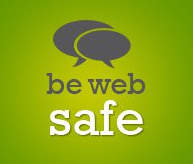 Debbie Woodward is the mum of three young children and runs a successful Social Media Marketing agency Logis Media based in Sligo. Debbie is passionate about promoting the safe use of the Internet through education and knowledge and subsequently set up her blog BeWebSafe.net providing advice for safer Internet use in January 2011. Debbie gives talks on Internet Safety to parents and students in primary and secondary schools. Contact info@bewebsafe.net for more details.